Best Honeymoon Destinations in November
As Southeast Asia enters the dry season, long, sunny days with lower humidity are some of the finest destinations to honeymoon in November. The French Polynesian islands, for example, offer excellent weather and a tropical setting that is lovely regardless of what you do throughout the day.
With this list of the best November honeymoon ideas, you can plan a romantic getaway.
Santiago, Chile
November is a near-perfect season to visit Santiago, and it's also a fantastic time to honeymoon in Chile's city. In November, the weather is moderate, with sunlight throughout the day and colder nights. The weather is pleasant for strolling about Santiago's Plaza de Armas and touring at some of the city's attractions.
Sunny November skies are ideal for taking the Teleferico Santiago cable car above the city or climbing to the top of the SkyCostanera for a panoramic view of the cityscape below. With private terrace suites and honeymoon packages, several resorts and luxury hotels cater to newlyweds.
Bali
Bali, Indonesia, is the best and most luxury November honeymoon destination. With rainbow sky at sunset and morning, ocean waves, infinity pools, spas, and private bungalows, this exotic setting is ideal for a honeymoon. The Balinese culture is welcoming, and many of the resort rooms cater to couples. While November marks the beginning of Bali's rainy season, rain is uncommon and short-lived, with generally clear skies to enjoy the beaches. The weather is pleasant without the sweltering heat that may accompany summer.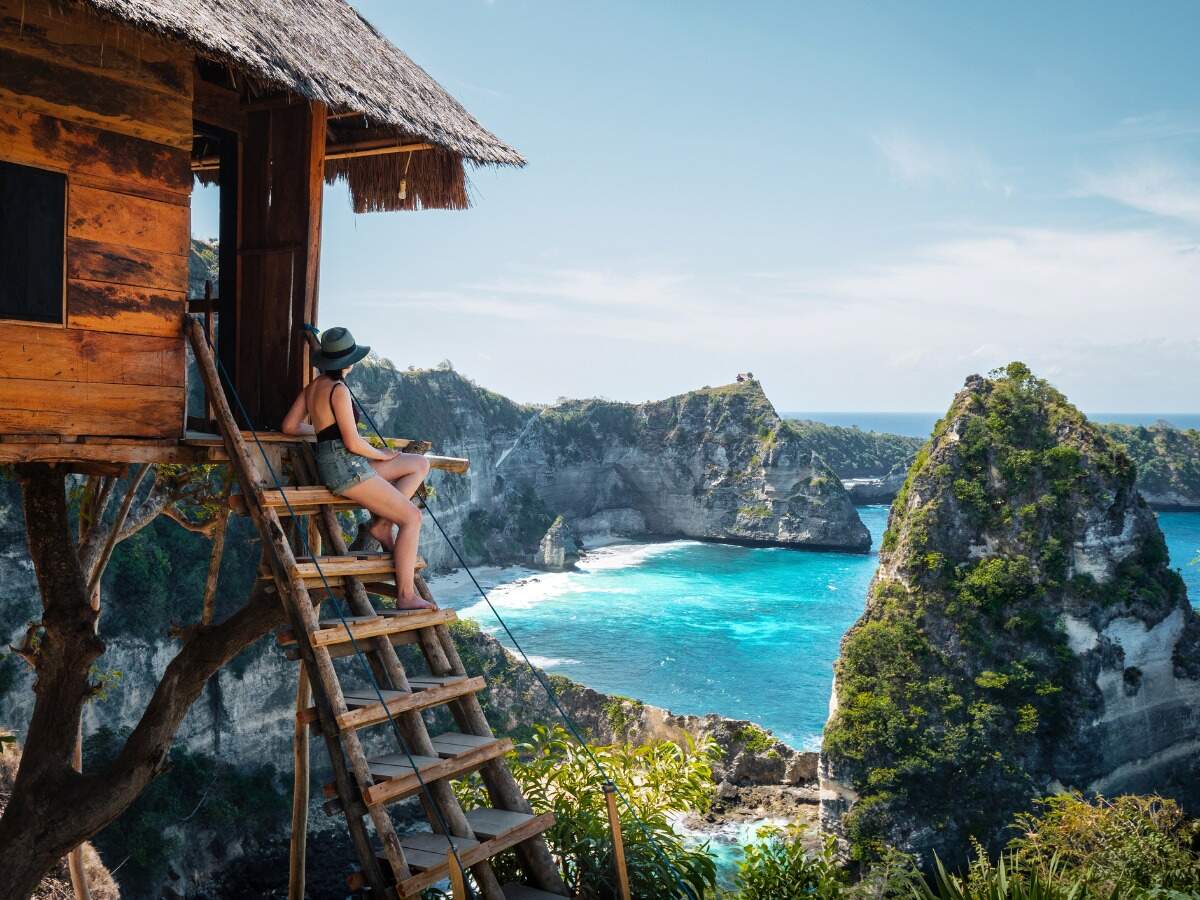 Beautiful beaches, golf courses, and island activities like as rafting, scuba diving, wake boarding, sightseeing tours, and cruises can all be found in Bali. Bali is a real paradise, with luxurious villas and resorts open 24 hours a day to cater to visitors. Many of the villas offer all-inclusive packages.
Seychelles
A November honeymoon in the Seychelles means the breezes are just right for the perfect getaway in this breathtakingly gorgeous Indian Ocean paradise. Cooler air means lower humidity and more pleasant temperatures, making outdoor activities like lying on the beach and snorkelling more pleasurable.
The Seychelles consists of 115 pristine islands. Some of the larger islands, such as Mahe, Praslin, and La Digue, have resorts with stunning views of the pristine turquoise seas. You'll want to spend a lot of time on the Seychelles' beautiful beaches, taking in the shade provided by the big palm trees and the water's edge stones. On the islands, there are several natural parks to visit, as well as animal viewing and floral gardens.
Kauai, Hawaii
With its magnificent mountains and stunning waterfalls, the Hawaiian island of Kauai is synonymous with honeymoons. It is one of the world's most romantic places. November is a fantastic month to visit Kauai since it is less crowded and before the winter visitors arrive. The weather has improved and is now suitable for t-shirts and shorts.
This romantic island is ideal for honeymooners who just want to spend quality time together while enjoying gorgeous sunsets, warm weather, and peaceful days on smooth white sand beaches. Kauai is a low-key island where the natural beauty of the island takes centre stage. Near the ocean, you'll discover resorts and villas that can assist you plan trips or romantic adventures, like as helicopter rides across the island.
Marrakech, Morocco
Marrakech is one of Morocco's greatest honeymoon destinations, and November is one of the best months to visit. Morocco may be extremely hot in the summer, but the weather in November is considerably more pleasant for visiting outdoor markets and attending local festivals.
You will love visiting the Djemaa El-Fna, Marrakech's main plaza, as a pair. In the city's primary meeting area, where snake charmers and street entertainers can be seen, you may get a cup of tea and take in the local scene. Stay in a traditional home in Marrakech for an extra-romantic experience, since many riads have been transformed into guesthouses for visitors.
Jamaica
The Caribbean island of Jamaica is one of the most popular honeymoon locations. November is one of the finest months to visit Jamaica since the weather is nice, hurricane season is over, and the sky are clear. November has pleasant weather, allowing you to enjoy the beaches and other outdoor activities.
In Jamaica, you can't help but feel amorous. It is the birthplace of reggae music, which can be heard everywhere from nightclubs to cruise ships. You'll also be in the centre of coffee and sugarcane country. Spend a day in the Blue Mountains with your new husband to discover where the famed coffee is grown. Near Jamaica, there are numerous lovely waterfalls to see, such as Dunn's River Falls in Ocho Rios.
Cairo, Egypt
Nothing beats a honeymoon in Cairo to commemorate the start of your new life together among Egypt's historic pyramids. November is a great month to arrange your honeymoon in Egypt since the heat is less intense and you may spend more time in the desert. This month is also a good time to visit because there are fewer people.
You may spend your honeymoon in Cairo, visiting museums and tourist spots. You may go on tours to view the Giza Pyramids and the Great Sphinx, two of Egypt's most famous sights.
Head to one of the beautiful local beaches for a day of relaxation and a dip in the Mediterranean.